Please visit our homepage for descriptions and information about online classes with Kate Pousont Scarborough.  These online classes will be running until such time as we able to fully open the studio once again. In addition, outdoor classes begin in April, and small group, in-person classes with masks begin in May. (Information for these also on the homepage.) Please join us!
The in-person classes listed below are not currently running.  Once we return to in person classes, hopefully this coming spring, we expect to run these classes once again.  We can't wait to see you there!  In the meantime, visit the homepage for current, online class information.
Intermediate Kripalu Yoga
Mondays 8:30 - 10:00 am Kate Pousont Scarborough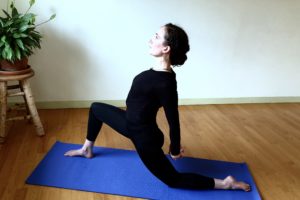 This moderately-paced yoga class includes gentle warm-ups with a focus on internal alignment as well as still and movement-based postures to promote strength, balanced flexibility, and easeful and intelligent movement choices. As with all of our yoga classes, the session ends with a cool down and savasana (final relaxation).  While interpretations of Kripalu Yoga vary, ours acknowledges and fosters the interconnection of the systems of breath, mind, and body and encourages self-compassion, deep attention, and wise and grounded action both on and off the mat. This class is suitable for a wide-range of levels and abilities.  (This class does meet on Monday holidays.)
Mondays 4:00 - 5:00 pm Kate Pousont Scarborough
Originally created for school teachers looking to unwind at the end of the school-day, this Monday afternoon practice is open to anyone interested in a gentle and accessible practice in a friendly and welcoming environment. Class includes an opening meditation, warm-ups, gentle posture flow, seated postures, and savasana (final relaxation). It is gently strengthening, deeply relaxing, and accessible to a range of levels.
Drop-ins are welcome, but please note that we don't meet on Monday holidays or school vacations. If you're not signed up for the series, do check the schedule for current class information.
(This class is currently running and all are welcome.  There will be no class on February 17 due to the holiday)
Tuesdays 8:30 - 9:30 am Cordelia Chester
Join us for a workout with results you can see and feel. We will combine the fundamental core-firming benefits of Pilates with the strengthening, mobilizing, and stabilization of the Polestar Pilates' Method. This 1 hour low-impact workout promotes deep stabilization,  enhances structural awareness, and helps you activate a dynamic strength from within. This class will offer movement and postural re-education tools to help support a healthy body in your daily life. No matter your level of fitness, or prior experience with the Pilates Method, you are welcome here!
The Polestar Pilates Method utilizes hands-on instructional touch to help enhance your musculoskeletal awareness. You are welcome to decline hands-on instruction at ANY time either verbally or with the use of the consent chips that are available at the studio in the coat room.  
Tuesdays 6:00 - 7:00 pm Kate Pousont Scarborough
Yin Yoga is a physically gentle practice that emphasizes stillness, internal balance, and deep focus. We hold simple postures for three to five minutes, not with the sole intention of becoming more flexible (though this may occur as a result) but also in order to organize, strengthen, and moisten the tissues of the body through the application of gentle lines of force or "stretch" in a range of seated and reclining yoga postures. This can lead to more efficient and easeful movement, greater awareness, and the release of tension or held patterns as the energetic and physical bodies move toward a more harmonious alignment. It is suitable for beginners, but is also ideal for advanced practitioners looking to explore the realms of deep focus and attention. It is easy to adapt for special conditions due to its slower pace, and students of all levels have reported a sense of calm and clarity at the completion of practice.
Wednesdays 8:30 - 10:00 am Kate Pousont Scarborough
For intermediate and advanced students.
This moderately-paced vinyasa practice includes a warm-up with core conditioning, traditional and exploratory posture flows, and balancing and seated postures with an emphasis on intelligent and functional movement choices, skillful awareness, and whole-being integration. This class addresses repetitive strain injuries common in long-time vinyasa yoga practitioners and some strategies to help prevent and alleviate them.
Vinyasa Yoga is open to anyone with previous experience interested in exploring a stronger practice, and, as always, you are invited to adapt the offerings to meet your individual needs and circumstances.
Movement Conditioning & Fitness Flow
Thursdays 8:30 - 9:30 am Kate Pousont Scarborough
This one-hour, fitness-oriented class includes dynamic movement sequences, conditioning exercises, and a cool down with "stretching" for a well-rounded, strengthening, and balancing morning workout. Using a combination of body weight exercises, free weights, core conditioning, and focused movement re-patterning strategies, Kate shares her unique perspective and wealth of body knowledge with a particular focus on functional strength, adaptability, and healthy, efficient movement patterns. A great compliment to a yoga practice (or to Tuesday morning Pilates),  this class is suitable for many ages and levels, and you will be encouraged to explore multiple options to tailor the level of difficulty to meet your individual needs.
Thursdays 6:00 - 7:15 pm Kate Pousont Scarborough
A balancing, strengthening, and rejuvenating yoga class for a range of experience levels, Slow Flow Yoga combines moderately paced posture flow and seated posture work with some yin postures and gentle movements for a strengthening, balancing, and calming yoga experience. Open to all levels.
Fridays 8:30 - 10:00 am Kate Pousont Scarborough
A gentle class for all levels, this class explores the subtle power of breath and awareness aligned with easeful and purposeful movements and postures. A great way to balance a more vigorous practice or to calm the system at the end of the week, this class offers a range of options and modifications to help you tailor the practice to meet your needs and goals.  Enjoy calming music, warming and restorative postures, and a long integration, all intended to foster a healthy mobility and greater ease and vitality in body and mind.
Rotating teachers: Jillian Soucie, Pam Roberts
Anna Meyer, & Kate Pousont Scarborough
A gently strengthening and balancing community class each Friday. Class is only $5.00 for Franklin Community Co-op members (McCusker's and Greenfield's market), $10 for non-members. Come enjoy a mid-day practice and meet the teachers at Shelburne Falls Yoga.
Monthly on Fridays 6:00 - 7:15pm Kate Peppard
This session is structured for relaxation and nourishment.  We start off with gentle movements and then then settle into restorative postures, which are held from 5-10 minutes each. The session culminates with a yoga nidra body scan where you rest for 15-20 minutes, transitioning you into a calm and quiet space from which you can move forward into your evening.  Each session in the series focuses in on an element (or two) and works with those qualities associated with that element, helping to also bring a little awareness to seasonal shifts, and our own changes in relationship to that. Beginners and experienced yogis are welcome, all levels of yoga experience can enjoy the benefits of this session.
This class meets monthly, on the first Friday of each month.
Regular class fees apply. Class cards are accepted.  No registration required!
Saturdays 9:00 - 10:00 am Kate Peppard
Start your weekend off well with this smartly-sequenced, quietly vigorous vinyasa class designed to cultivate your inner strength, both physical and spiritual. Expect core work, vinyasa flow with options for a range of levels, and a focus on aligning breath with movement to help establish and maintain a fun, safe, and sustainable practice.
All are welcome to attend, though this class moves at a slightly faster pace and is best suited for those with some prior yoga experience or beginners who are interested in a physical challenge.
Sundays 9:00 - 10:30 am Melissa Stevens
Enjoy a peaceful start to your day with this moderately paced yoga flow class, open to practitioners of all levels of experience and ability. Through the mindful integration of physical yoga postures, breath, and attention / intention we cultivate a well-rounded combination of strength, flexibility, kindness, curiosity, integrity, and grace. We move slowly and deliberately (and with a healthy dose of humor too!) in order to deepen awareness and fully embody the breath, the postures, and ourselves, a practice that can also help us move through life with greater clarity, ease, and efficiency.
Know Your Options: a FREE workshop for pregnant families
2nd Sundays, 2-4pm Anna Westley
Know Your Options is a casual, monthly workshop. Anna will be available to answer questions, listen to where you are at and share insights, tips, resources, perspective, techniques and tools.
This workshop is FREE but registration is required:
https://www.opensourcebirth.com/childbirth-education
ALL GENDERS,
ANY TRIMESTER,
ALL AGES.
Kids and elders welcome.
Topics covered will be shaped by participants' needs and may
include:
choosing a birthplace
comfort measures
birth plans
informed consent & refusal
birth stories
optimal fetal positioning
vaginal birth after cesarean
family centered cesarean
postpartum support plans
evidence based care
emotional health
breast/chest-feeding & much more…